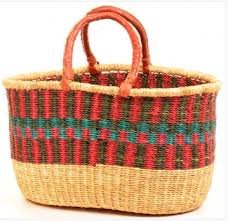 African Market Baskets
African Market baskets...
These baskets are made from river grass, known as "elephant grass" by local weavers in Bolgatanga, Ghana. Each comes in assorted colors and patterns. All colors vary, not one is the same!

Baskets with leather handles are wrapped in goat skin for comfort and durability. The leather is naturally tanned using local seeds and red millet. Large round and rectangular baskets have leather woven handles. The small round baskets have grass woven handles..
All baskets come folded for packaging, but are easily shaped by wetting the basket well in the sink and shaping it by hand. See the video on African Market Basket website: http://www.africanmarketbaskets.com/shipping-and-shaping/
Large round baskets are about 18" in diameter
Small baskets are about 9" or so in diameter.
Rectangular baskets vary between 18" long x 10" wide and 14" x 10". No 2 are alike or the same size.