Natural Fiber Winnowing Bowels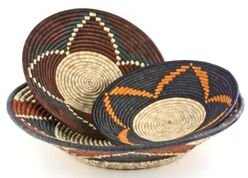 Natural Fiber Winnowing Bowels
Natural Fiber Winnowing Bowl
Each grain winnowing bowel, handcrafted in Uganda, features a unique pattern.
Two sizes available. Sold singly. Patterns and colors will vary.

Origin: Uganda, Kenya
Size: Small - 12" diameter @ $23.00; Large - 18" diameter @ $28.00.
Materials: Plant fibers, natural dyes

Please note: The designs shown represent typical pattern and color. As each bowel is unique, no particular pattern or color is guaranteed.